We all speak English, so you should not worry about any trouble with language communication.
Trust us and tell us how you want your hair done and we will do the rest!!
In the past, we have served customers from over 30 different countries, and both of us have  lots of experience with non-Japanese customers. We are very proud of our skills, ranging from coloring to hair styling through to relaxers. Our offers are ''a cut above'' the rest. We also offer high quality hair-care products that are carefully chosen by us for your individual hair needs.
 We use foreign hair color. WELLA, SCHWALZKOPF, LOREAL,etc
OneWORLDの期待のアシスタント一騎のご両親から頂き物が届きました。
ありがとうございます。
皆で美味しく頂きます。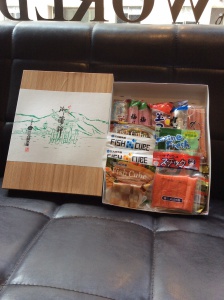 Weekday 10:00~20:00
(Last Appointment>>Cut 19:00, Color/Perm 18:00)
Saturday,Sunday,National Holidays  9:00 ~19:00
(€€Last appointment>>Cut 18:00,Color/Perm 17:00)
International Hair Salon
One WORLD
English Speaking
106-0045
港区麻布十番2-8-3 DKNS麻布4F
Tel 03-6459-4354
OneWORLDFacebook
OneWORLD Instagram